Corporate Impunity
Companies building the Wall
The Wall and its checkpoints, observation systems, and military roads is the largest infrastructure project carried out by the Israeli occupation authorities to date. It requires a variety of landscapers and planners; suppliers of concrete, fencing and heavy machinery; and other producers of various high-tech equipment. In the first 5 years of the construction, already 700 different subcontractors, around 60 planning offices, 53 major construction companies, 5 wire-fence companies, 11 civilian security companies, and about 34 producers of surveillance and communications were on the payroll.
See below an excerpt from Mark Akkerman's chapter "The industry behind the Walls" in the report "A Walled World Towards A Global Apartheid" (2020).
| | | |
| --- | --- | --- |
| Company | Country | Work |
| Ackerstein Industries | Israel | Provided concrete slabs for the construction of the Separation Wall |
| Ahstrom Group | Israel | Supplied construction materials for the checkpoints in the Separation Wall |
| Avi Cranes | Israel | Supplied cranes and machinery for the construction and maintenance of the Separation Wall |
| B.G. Ilanit Gates and Urban Elements | Israel | Supplied security gates for checkpoints in the Separation Wall |
| Bardarian Brothers | Israel | Infrastructure works along the Annexation Wall, carrying out two sections of the wall |
| Bobcat Company | USA | Supplied mini loaders used during the construction of the Separation Wall |
| Caterpillar | USA | Supplied heavy machinery used during the construction of the Separation Wall |
| CNH Industrial | UK | Supplied excavators used during the construction of the Separation Wall |
| DefenSoft | Israel | Provided the defense array design for the Separation Wall |
| El-Far Electronics Systems | Israel | Provided and installed fences and a perimeter defense system as part of the construction of the Separation Wall apparatus |
| Elbit Systems | Israel | See profile below |
| Eli Yohanan Engineers | Israel | Involved in construction of the Separation Wall |
| Falcon (WF) Technologies | Israel | Supplied control systems for the Separation Wall around Jerusalem |
| Geo Danya | Israel | Involved in construction of three sections of underground wall around Gaza Strip |
| Hitachi | Japan | Equipment documented during construction of the underground wall around the Gaza Strip |
| Housing & Construction – Solel Boneh Infrastructrures | Israel | Construction of sections of wall and underground wall around Gaza Strip |
| JCB (J. C. Bamford Excavators) | UK | Provided track and wheel excavators and wheel loaders used during construction of the Separation Wall |
| Lesico | Israel | Built sections of the border walls with Egypt and Jordan, the wall around Gaza and the Separation Wall |
| Liebherr International | Switzerland / Germany | Provided heavy construction machinery used in construction of the Separation Wall |
| Magal Security Systems | Israel | Construction of 170km of the 708km long Separation Wall; installation of electrical deterrence fence as part of the Wall'; built an electrical detector fence in Syrian Golan and supplied perimeter intrusion detection system for barrier surrounding the Gaza Strip |
| Manitou | France | Supplied cranes used in construction and maintenance of the Separation Wall |
| Nesher Israel Cement Enterprises | Israel | Supplied , "in all probability", cement used in construction of the Separation Wall |
| Olenik Transportation Earth Work and Road Constructions | Israel | Provided bulldozers used in construction of the Separation Wall |
| Olizki Infrastructure | Israel | Construction of underground wall around Gaza Strip |
| Orad Group | Israel | Electronic detection systems and perimeter security products installed in fences as part of the Separation Wall |
| Taavura Holdings | Israel | Provided heavy haulage and installation engineering services to Israeli authorities during construction of the Segregation Wall |
| Tandu Technologies and Security Systems | Israel | Provided security and communications services for checkpoints along the Annexation Wall |
| Terex Corporation | USA | Trucks and floodlights used by private contractors for construction of the Separation Wall |
| Volvo Group (AB Volvo) | Sweden | Provided trucks used during construction of the Separation Wall |
| Yehezkel Morad | Israel | Involved in construction of first part of the Separation Wall |
| Yehuda Welded Mesh | Israel | Provided 70 km long fence for construction of wall around Gaza Strip; involved in construction of the wall along the border with Egypt |
| Zoko Enterprises | Israel | Supplied Caterpillar equipment for construction of the Separation Wall |
The research centre, Who Profits, maintains an extensive database of companies that are involved in the Israeli occupation of Palestinian and Syrian lands, including those that worked on the separation barriers. It shows the many aspects of the technical complex features of Israel's barriers. Most of the companies involved are Israeli, but researchers from Corporate Occupation also discovered machinery from several Asian, European and US companies working on the Gaza wall. These include JCB (UK), Caterpillar, and Terex (USA), Hitachi (Japan) as well as Bauer (Germany), Doosan (formerly Daewoo; South Korea), Hyundai (South Korea) and Soilmec (Italy) (Anderson and Egret, 2018).
Apart from companies working directly on the walls and fences on Israel's borders, many others are involved in related work, for example providing surveillance, detection and monitoring technology and running or providing security services for checkpoints, another form of barrier. These include Controp Precision Technologies (Israel), whose Stabilized Panoramic Automatic Intruder Detection and Recognition System (SPIDER) was used by the IDF for surveillance along the Separation Wall, and Israeli private security companies Modi'in Ezrachi and Sheleg Lavan, which operate checkpoints along this wall (Who Profits, n.d).
'Field tested'
Israeli military and security companies are known to promote their goods and services by highlighting their experience, be it on the 'battlefield' or the border. As the Stop the Wall Campaign notes: 'Companies […] benefit from the ability to test Wall-related surveillance, detection, and scanning technologies on a captive population'. In this way, for example, Elbit Systems (see below) has successfully exported its goods to the US and Europe.
In a bid for European border security contracts, Saar Koush, then CEO of Magal Security, which built the wall on the West Bank, said: 'Anybody can give you a very nice Powerpoint, but few can show you such a complex project as Gaza that is constantly battle-tested' (Zeveloff, 2016). RBTec Electronic Security Systems, which was invited by Frontex to participate in its April 2014 workshop on 'Border Surveillance Sensors and Platforms', boasted in its application that its 'technologies, solutions and products are installed on Israeli-Palestinian border' (PAD, 2014).
In 2015, Bulgaria and Hungary publicly toyed with buying Israeli-designed border fences. Although both countries eventually chose other companies, Israel's experiences offered inspiration (Williams, 2015). India's Comprehensive Integrated Border Management System (CIBMS) on its borders with Pakistan and Bangladesh has also been impressed by Israeli technology (Khajura, 2018).
Elbit Systems
Elbit Systems is Israel's largest arms producer (and 28th on SIPRI's global Top 100 list (Fleurant, 2019)) and closely cooperates with the IDF. The company has been involved in constructing Israel's walls since 2000.
In 2002, when the construction of the Annexation Wall started, its subsidiary Ortek won a US$5 million contract to build 25 km of electronic fence and warning systems around Jerusalem (Reuters, 2002) In 2006 this was followed by a US $17 million contract to supply advanced sensors, an electronic fence, communications, and computerised command and control posts for the wall (Homeland Security News Wire, 2006).
Elbit has also supplied surveillance systems for Israel's borders with Lebanon and Syria (Parrish, 2019). In 2013 the company was awarded a contract worth more than US$60 million to install a border defence system, based on data fusion to 'identify any suspicious indication that digresses from the established routine', in the occupied Golan Heights on the border with Syria (Inbar, 2013). Together with the arms company Rafael and the IDF, Elbit started to develop tunnel-detection technology for use on the border with the Gaza Strip (Cteh, 2018). By extension, in 2017 Elbit became the lead contractor for the 'smart' components of the 40m-deep underground part of the new wall around Gaza. Elbit, together with Israel Aerospace Industries in their former joint venture G-NIUS, also developed the Guardium for Gaza, a remotely controlled unmanned ground vehicle (UGV). Later Elbit took this one step further and developed the fully autonomous SEGEV, a UGV with cameras for border patrol (American Friends Service Committee, 2019).
Its US subsidiary, Elbit Systems of America, built on these experiences, landing a US$145 million contract in 2014 to build a network of 55 surveillance towers in Arizona on the US–Mexico border (Lappin, 2014) In 2019, Elbit was also awarded a US$26 million contract to install a multi-sensor monitoring system on the border (Jerusalem Post, 2019). These contracts followed the failure of the SBI-Net-project to construct a 'virtual fence' on this border. The contract with Boeing was cancelled in 2011, after about US$1 billion had been spent, because its system of towers with sensors, cameras and radars failed to work (Preston, 2011).
As well as Elbit's fences and wall-related technology, the company offers a broad portfolio of arms and security technologies, which are also used for border security. One such example is the Hermes UAV, which has been sold to Switzerland and was leased to the US Customs and Border Patrol (CBP) as well as the European Maritime Safety Agency (EMSA), to fly surveillance missions, including for border patrol, for EU member states (AFP and Times of Israel Staff, 2015).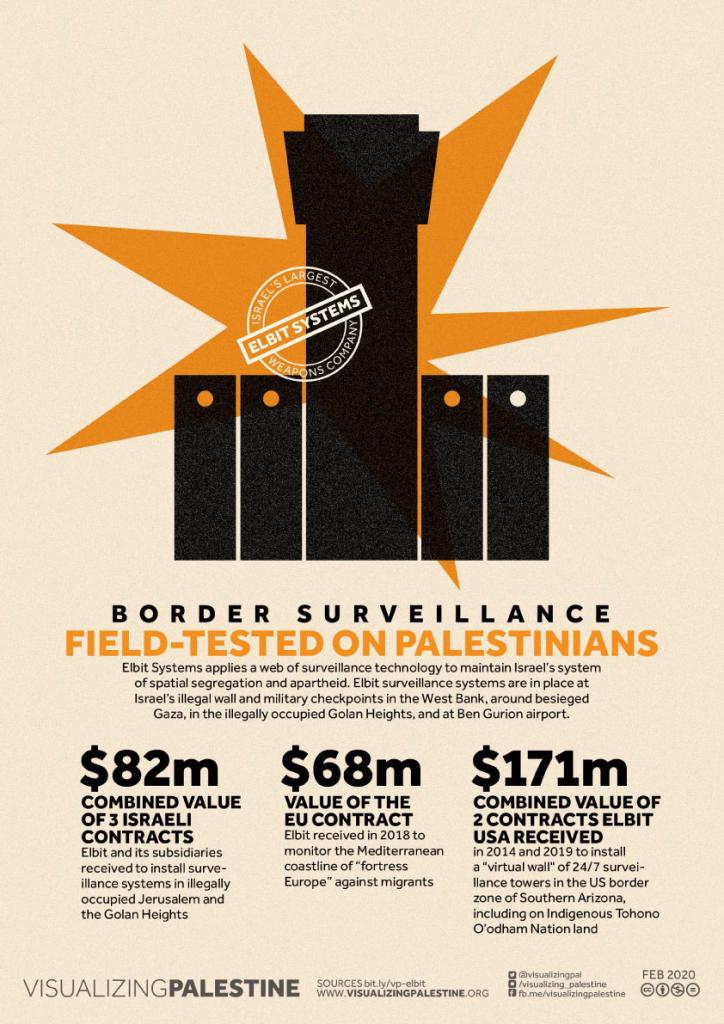 The UN database on businesses involved in Israel's settlement enterprise 
Business enterprises have a legal obligation to respect international humanitarian law and human rights throughout their operations. Numerous Israeli and foreign (semi)private entities, however, contribute to the construction and maintenance of the Israel's illegal Wall and settlement enterprise and, thus, to the maintenance of Israeli apartheid more broadly. In light of the findings of the ICJ Advisory Opinion of 2004 and subsequent studies, these private entities are likely to be complicit in population transfer, unlawful destruction or confiscation of Palestinian property, systematic racial discrimination and inhuman acts of apartheid linked to the settlement enterprise. These are international crimes that entail criminal or civil liability of the responsible private entity.
Research on Israel's settlement enterprise suggests that the proportion of Israeli exports that partially or fully originate from illegal Israeli settlements may be up to 33%. Israel's government investment in settlement businesses can be as high as 22% of the total budget for business investment. Most Israeli companies operate indiscriminately on both sides of the Green Line, with premises in illegal Israeli settlements playing a key role in their operations. Revenues from economic activity linked to the settlements, including exports of products, exploitation of natural resources or labor and development of technology or products, provide a large income to both individual settlers and to settlement and State authorities, improving the economic viability of existing settlements. Exports of settlement goods provide a much‐needed off-setting of the costs of the settlement enterprise from outside of Israel's domestic economy. For settlers and Israeli businesses to know that a market for settlement‐related activity exists, is a powerful incentive for settlement expansion and the establishment of new settlements.
Foreign investment and other business involvement of international corporations and financial institutions are, thus, an essential lifeline for Israel's illegal settlement enterprise and apartheid regime.
It is therefore fundamental  that the UN database of businesses involved in the illegal Israeli settlements  is not only continuously updated and shared with the public; it must also be used to ensure that listed companies are pressured, through BDS campaigns and otherwise, to respect Palestinian human rights and stop all business with Israel's settlement Enterprise. Third parties should be called to abstain from or terminate investment, contracts and other dealings with businesses listed in the UN database. 
Binding Treaty on Transnational corporations 
The 1948 Universal Declaration of Human Rights has a painful omission: It does not explicitly oblige corporations to follow its principles. Therefore, since 2014 an intergovernmental working group has been tasked with developing a treaty to reaffirm the supremacy of human rights over corporate interests and trade agreements. The ongoing negotiations are to confer on transnational corporations direct obligations – instead of voluntary guidelines – to respect human rights, and civil and criminal liability should they fail to do so.
Such a treaty could enable Palestinians to hold transnational corporations accountable more effectively for their involvement in Israel's apartheid regime. Stop the Wall is part of The Global Campaign to Reclaim Peoples Sovereignty, Dismantle Corporate Power and Stop Impunity. The Global Campaign is a network of over 250 social movements, civil society organisations (CSOs), trade unions and communities affected by the activities of Transnational Corporations (TNCs). It fights for the Binding Treaty and develops joint initiatives to hold corporations accountable.