Nabi Saleh, West Bank – Palestinian activist Mustafa Tamimi, 28, died this morning of wounds sustained after the Israeli occupation forces shot him in the face on Friday at the weekly popular protest in Nabi Saleh. Tamimi was shot from less than 10-meters distance with a high velocity tear gas grenade that made him unconscious and bleeding profusely. He was then taken to hospital where he remained in life support until this morning. The Israeli occupation forces prevented his family from accompanying him.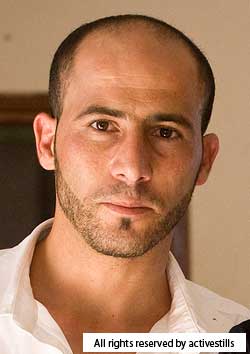 Tamimi is the 21th unarmed protestor killed by Israel at the weekly popular protests against the wall and occupation every Friday in Palestinian villages across the West Bank. Nabi Saleh protests Israel's confiscation of its lands for surrounding Israeli settlements, including a village spring taken by the settlers of Halamish. Residents and human rights organizations have documented extensively Israel's violent record in the village against residents and unarmed protestors.
Tamimi was targeted as the UN Special Rapporteur on the Right to Freedom of Opinion and Expression, Frank La Rue, was present in the village hearing complaints from residents about Israel's harassment and denial of their basic rights. Stop the Wall coordinator Jamal Juma' said, "Mustafa Tamimi's death on Human Rights Day is highly symbolic of Israel's complete disregard for the rights of Palestinians, including the right to life. Israel's murderous record is well documented but the international community continues to turn a blind eye on them, welcoming Israel and its leaders in their midst." The weapon that killed Tamimi was made in the US despite legislation that prohibits supply to persistent human rights violators. "Israel's violent repression won't break our spirits," said Juma', "Palestinians and their international supporters will continue resisting Israel's illegal policies and expose international complicity that has enabled this to continue for too long."
Tamimi's funeral will leave on Sunday at 12pm from Ramallah Hospital and proceed to Nabi Saleh where he will be buried after the Asr prayers (2pm). Tamimi was engaged and is survived by his parents and siblings.
Notes for the editor:
1) Contact:
Palestinian Grassroots Anti-Apartheid Wall Campaign
Cell.: 00972-598921821 (Jamal Juma')
Mail: global@stopthewall.org
Fax.: 00972-2975123
2) Video of the aftermath of Tamimi being shot: https://www.youtube.com/watch?v=iJ5DipqScyE&feature=player_embedded
3) Photos: https://www.flickr.com/photos/activestills
2) Background:
Nabi Saleh has a population of approximately 500 residents and is located 30 kilometers northeast of Ramallah. The Israeli colony of Halamish (also known as Neveh Tzuf) was established on lands belonging to the villages of Nabi Saleh and Deir Nidham in 1976. Halamish colony has continued to expand and steal more Palestinian land. In the summer of 2008, the Israeli colonists from Halamish seized control of a number springs, all of which were located on private Palestinian land belonging to residents of Nabi Saleh. In December 2009, the village began weekly demonstrations in opposition to the illegal Israeli colony of Halamish annexing of the fresh water springs and stealing of more of the village's land. Since Nabi Saleh began its demonstrations, the Israeli occupation forces has brutally sought to repress the protests, arresting more than 13% of the village, including children. In total, some 90 village residents have been arrested. All but three were tried for participating in the demonstrations. Of those imprisoned, 29 have been minors under the age of 18 years and 4 have been women.